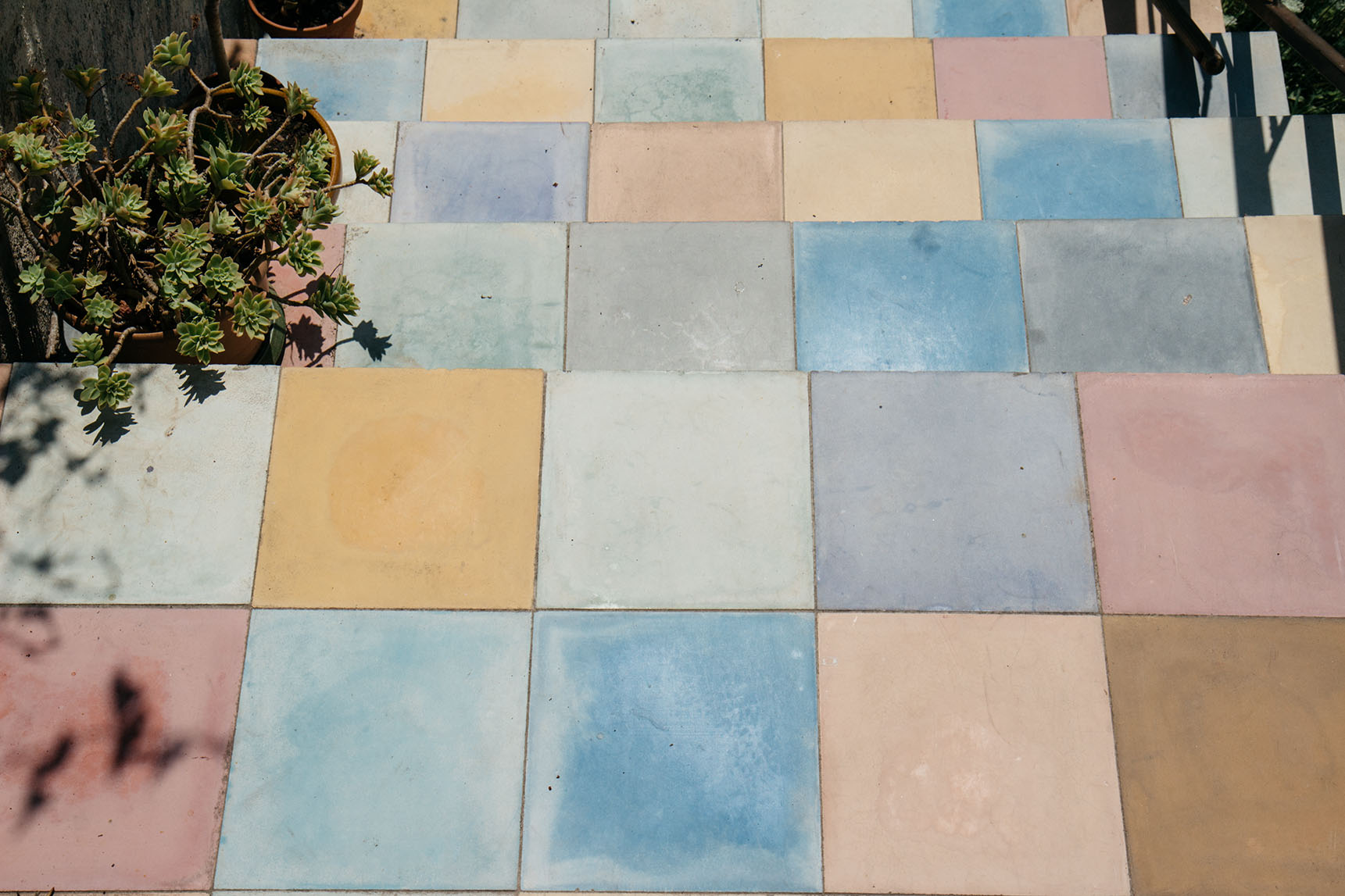 07 Mar

STEPHANIE

La bibliothèque – « J'avais très envie de m'asseoir sur des livres » prévient Stéphanie en nous présentant la bibliothèque du salon : les livres se trouvent en effet à l'intérieur de casiers qui servent aussi de bancs. « On les a faits avec mon mari » précise-t-elle. Excellent moyen pour dissimuler le désordre d'une bibliothèque tout en laissant les livres à portée de main, surtout les albums de leurs deux petites filles. En suivant Stéphanie à travers la maison, on découvre que les livres sont partout : dans le bureau – ce sont ceux de son mari, instituteur, et passionné d'ouvrages sur l'enfance – une bibliothèque cachée derrière la porte du couloir, une autre dans la chambre – pour les lectures plus personnelles. Stéphanie n'aime pas l'idée que les livres soient sacralisés : « J'aime qu'on en trouve partout, qu'ils fassent partie intégrante du quotidien. » Leur présence est discrète, loin de toute mise en scène, on sent bien que la vie s'organise autour et avec eux.

Stéphanie est souvent surprise de découvrir de nouveaux livres chez elle : « Ils arrivent toujours par des chemins détournés, par la famille, les amis, je ne contrôle pas les entrées et encore moins les sorties ! » Les livres ne sont pas faits pour rester en place, ils doivent circuler, comme les grandes idées. Parfois, la maison prend des airs de cimetière de livres avec des ouvrages que plus personne ne veut lire ou emprunter. Alors ils restent là, dans l'une ou l'autre des bibliothèques, au choix. Stéphanie aime le côté « chasse au trésor » qui réserve toujours des surprises.

Lectures – Dans sa chambre, Stéphanie garde les lectures qui l'ont le plus marquée. « On trouve essentiellement des romans du xxe siècle » remarque-t-elle. Et Stéphanie s'inquiète – sans raison : « Je crois que je suis assez banale dans mes lectures… » On la rassure et surtout on veut savoir.

Son premier amour de lecture, à l'adolescence, a été Barjavel. Elle a alors tout lu de l'auteur. Et elle garde aujourd'hui encore cette habitude : dès qu'elle découvre et aime un nouvel auteur, il faut qu'elle lise toute son œuvre. Les noms d'écrivains s'enchaînent alors portés par l'enthousiasme du souvenir de lecture : Irving ! Fante ! Salinger ! Jonathan Dee ! Barrico ! Gary (« Quel auteur, quel type ! Les gens devraient lire Adieu, Gary Cooper ! »), Emmanuel Carrère (« Limonov c'est LE livre rêvé pour tout journaliste ! » et elle en sait quelque chose : Stéphanie est journaliste), Philippe Carrese (« Incontournable pour une Marseillaise pur jus ! »). Dans son panthéon littéraire, on trouve : La Chute d'Albert Camus : « Pour la chute que ce livre provoque justement. Tellement de puissance avec des mots simples ». Invitation au supplice de Vladimir Nabokov : « Chez lui les mots vous pètent à la gueule ! » Et tous les livres de Patrick Modiano : « Je lui dois quelque chose. Après la naissance de ma première fille, j'ai attrapé au hasard Rue des boutiques obscures. Je l'ai lu dans la nuit. Je l'ai lu comme un acte de rébellion contre mes doutes sur la maternité. Cela a été une chance de tomber sur lui. »

Dernier mot – Stéphanie finit toujours les livres qu'elle commence. Par politesse, explique-t-elle. Elle nous confie une de ses manies : « Je regarde toujours le dernier mot avant de commencer un roman. S'il est bon, le livre ne peut pas être mauvais ! » La preuve : le dernier mot de La chute : « heureusement. » Elle se souvient aussi du dernier mot de Cent ans de solitude de Gabriel Garcia Marquez : « chance. » « Vous voyez, ça marche ! » s'amuse-t-elle. « Ce livre est incroyable : on lit 700 pages sans vraiment savoir pourquoi et la dernière page donne tout son sens à l'œuvre ! » En ce moment, elle lit Cette histoire là de Alessandro Barrico dont les derniers mots sont « que son cœur s'arrêta ».
---
Bookcase
"I have always wanted to sit on books" warns Stéphanie when presenting us her bookcase: books are indeed into wooden boxes that also serve as benches. "We made them with my husband" she adds. Best way to dissimulate the mess of a bookcase while having the books at hand, especially for their two young daughters. Following Stéphanie through the house, we discover that books are everywhere: in the office – her husband's, who is a teacher and reads a lot about education – behind the door in the corridor and in the bedroom. Stéphanie doesn't like to sacralise books: "I like that they are everywhere and part of our daily life". Their presence is discreet and life goes naturally around and with them.
She is often surprise to find new books at home: "They come by different ways, through family, friends. I have totally lost control on arrivals and departures!" Sometimes the house looks like a cemetery for unwanted books. So they stay here, in one of the bookcase. And Stéphanie appreciates the idea of a perpetual treasure hunt full of discoveries.
Readings
In her bedroom, Stéphanie keeps the books that are the most important to her. There are mainly novels from 20th century. And Stéphanie worries – for no reason: "I think I am quite a banal reader…" We reassure her and above all, we want to know.
Her first love – in terms of reading – was with Barjavel. She read everything he wrote. And she has kept this habit: when she discovers and likes an author, she reads everything. She drops many authors' name, taken by enthusiasm and memories: Irving! Fante! Salinger! Jonathan Dee! Barrico! Gary! In her literary pantheon, we also find Albert Camus with The Fall: "So much power with such simple words." Invitation to a Beheading by Vladimir Nabokov. And most of the novels by Patrick Modiano: "I owe him something. After the birth of my first daughter I read Missing person in one night. I read it as an act of rebellion against my doubts about motherhood. It was a chance to find him at that moment."
Last word
Stéphanie always goes till the end of books that she starts. To be polite, she explains. She confesses one of her theory: "I always give a look to the last word of the novel she is about to start. If it is a good one, the book can't be bad!" Indeed: the last word of The Fall is fortunately. And she remembers the last word of One hundred years of Solitude by Gabriel Garcia Marquez: luck. "See? It works!" she laughs. "This novel is incredible. You read 700 pp without really knowing why and the last page gives sense to the whole novel!"
---
A FEW BOOKS TO BORROW FROM STÉPHANIE:
The Fall by Albert Camus: Elegantly styled, Camus' profoundly disturbing novel of a Parisian lawyer's confessions is a searing study of modern amorality.

One Hundred Years of Solitude by Gabriel Garcia Marquez: The novel tells the story of the rise and fall of the mythical town of Macondo through the history of the family. It is a rich and brilliant chronicle of life and death, and the tragicomedy of humankind. In the noble, ridiculous, beautiful, and tawdry story of the family, one sees all of humanity, just as in the history, myths, growth, and decay of Macondo, one sees all of Latin America. Love and lust, war and revolution, riches and poverty, youth and senility — the variety of life, the endlessness of death, the search for peace and truth — these universal themes dominate the novel. Whether he is describing an affair of passion or the voracity of capitalism and the corruption of government, Gabriel Garcia Marquez always writes with the simplicity, ease, and purity that are the mark of a master.

Invitation to a Beheading by Vladimir Nabokov: Like Kafka's The Castle, Invitation to a Beheading embodies a vision of a bizarre and irrational world. In an unnamed dream country, the young man Cincinnatus C. is condemned to death by beheading for "gnostical turpitude", an imaginary crime that defies definition. Cincinnatus spends his last days in an absurd jail, where he is visited by chimerical jailers, an executioner who masquerades as a fellow prisoner, and by his in-laws, who lug their furniture with them into his cell.
Missing Person by Patrick Modiano: In this strange, elegant novel, winner of France's premier literary prize, Patrick Modiano portrays a man in pursuit of the identity he lost in the murky days of the Paris Occupation, the black hole of French memory.