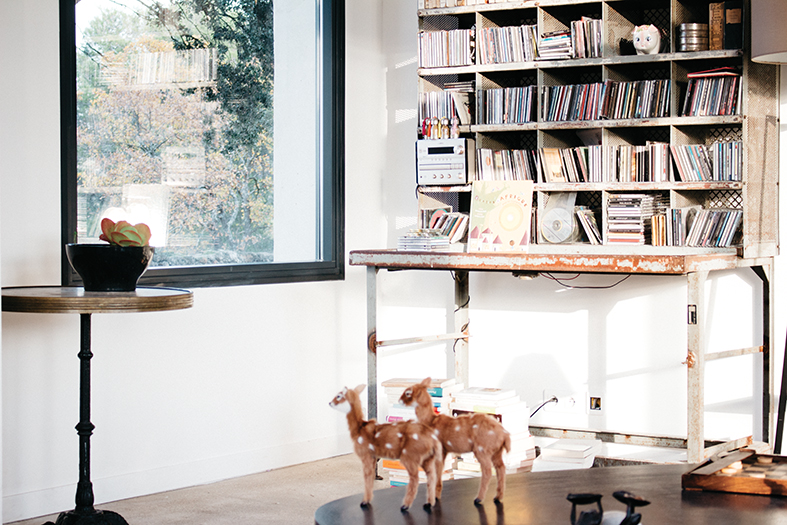 07 Jan

CONSTANCE

Space and bookcase

Before talking about Constance's bookcase it is important to describe the atmosphere of the house. Two words are enough: modern and timeless. Undeniably modern thanks to its clean lines, the colours and materials used, the numerous picture windows, the open spaces and above all, the light, everywhere. As for its timelessness, we find it in the big garden filled with olive trees, tall pine trees, a little shed (typical of the South of France), and an almost invisible swimming pool. The entire garden invites you to take an afternoon nap, in the shadow of the trees.

In the house, there is no single bookcase, or a space dedicated only to books. Instead, books are everywhere, always within reach of wandering hands or eyes. Close to the chimney, for example – perfect for reading during wintertime. But also in the kitchen, in a corridor, in the multiple bedrooms for the children, Constance and her husband, and guests. Everyone can easily grab a book everywhere. In the living room a vintage postman's table displays books as well, without any specific classification. Some of them are still in a pile, waiting to be put on one of the many shelves.

Readings

With literature, Constance expects an escape, a break from her daily life. With books, she wants to get away, to dream and to live with the characters. She reads general literature but also historical novels and romance. She admits that she often cries while reading. If that happens, it means that the author has got it right. "When you get carried away and let go of everything, the book is good" sums up Constance. She evokes A Thousand Splendid Suns by Khaled Hosseini, one of the last books that really moved her. The novel is set in Afghanistan during the Soviet occupation and then during the Taliban regime. "I couldn't stop reading it!" says Constance who read the book at home with her three kids around her, at a restaurant with friends, in the car with her husband. "On the beach, I was crying so much while reading it that people around me thought I had been dumped!" she remembers, amused.

One book is constantly by her side in her daily life, she thinks about it often, and opens it regularly. It is L'art de la simplicité (The Art of Simplicity) by Dominique Loreau, a French author who lives in Japan. "This book contains very useful advice on how to simplify everyday life." After spending some time with Constance, we are convinced of the wisdom contained in this little book. Here the atmosphere is very serene and everything seems effortless. We don't want to leave. Only one thing matters: to sit down on one of the sofas with a good novel.

Old books

Amongst the books, there are those that belong to Constance, her husband or their children. But there are also some old books with faded and yellowed covers from original editions. They belonged to the former owners of the house. Constance wanted to keep them. She doesn't like to throw books away, but it is also a way to preserve the soul of the house, to create a tradition.
---
A FEW BOOKS TO BORROW FROM CONSTANCE:
The Music of Chance by Paul Auster, Viking Press, 1990: A novel about the meaninglessness of the universe.
Silk by Alessandro Barrico, Vintage Books, 1996: A fable about love and the meaning of life. "A cult classic!"
The Life Before Us by Romain Gary, New Directions, 1986: "An unforgettable coming-of-age novel".
A Thousand Splendid Suns by Khaled Hosseini, Riverhead Books, 2007
The Cider House Rules by John Irving, Ballantine Books: Set in rural Maine in the first half of this century, it tells the story of Dr. Wilbur Larch—saint and obstetrician, founder and director of an orphanage, ether addict and abortionist. It is also the story of Dr. Larch's favorite orphan, Homer Wells, who is never adopted.