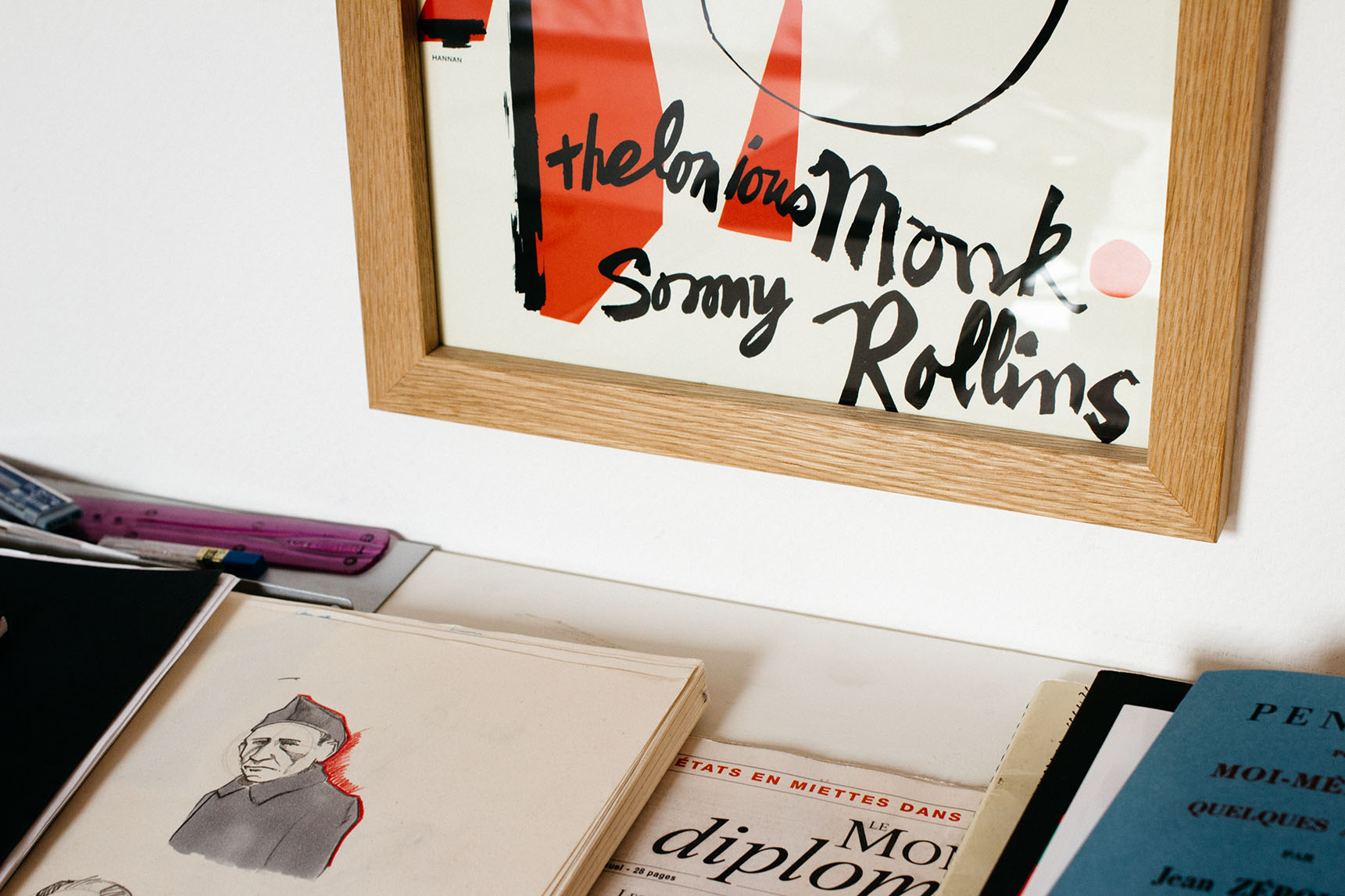 12 Apr

BASTIEN

Bookcase

Bastien welcomes us in the small house he shares with three other flatmates. In the living room, we walk by a shelf with comics and graphic novels. But we don't stop here as we are invited to go upstairs, in Bastien's bedroom. The place is luminous and full of sun. The bookcase is occupying a wall, framing Bastien's desk where he has studied mathematics for a long time as he now teaches them. Now, when he sits at his desk it is for drawing. Secret information: he currently works on a graphic novel project inspired by his grandfather's story, who was a resistant during WWII. The bookcase is Bastien's handiwork: "I know it bows down a bit. But it holds on!" Pocket books are lucky here: they have their own shelf. The other books are classified in a more anarchical way, some of them being reunited according to the publishing house. And what about the comics downstairs? Do they belong to Bastien? "Yes, they are mine. I thought they could remain downstairs in the shared living room. I think I like them a bit less now and I therefore don't need them so close to me." Here, books go and come, following Bastien's heart movements.

Readings 

"Till I got twenty year-old, I was not a reader. I was looking for some answers but no books were meeting my expectations". And then there was The Just Assassins by Albert Camus, discovered thanks to a friend. "I was already very involved in politics at that time and I was wondering a lot about revolutions. By reading this book, I understood that I might never get clear answer to my questions, but at least it was nourishing a reflection." So it was all Camus and then all Sartre. That is how Bastien became a reader. Today his readings are mostly about politic. "It's good for my health, it nourishes me and helps me to understand the world". As an open-minded and leftist reader, he likes to explore different ideas, points of views, sources. "The more I read, the more I become a Revolutionary, the more I am taking distance with orthodoxy." On the bedside table, one book is drawing our attention: Does capitalism has a future?

Bastien also reads novels. And nothing about politics: he likes love stories and familial sagas. He sums up: "For me, there are two categories of novels, the ones I find beautiful and the ones that are not." An example? The Prospector by J. M. G. Le Clézio, this is pure beauty! The only novel I read twice!" As for the other category?

Beautiful gesture

Bastien has no time to answer as he spotted a book on a shelf. It is a book of French contemporary poetry. "This is beautiful as well. I bought this book at least ten times already. I adore it and I love to offer it." And that's true: he gives it to us. He will have to buy it a eleventh time. Bastien loves books, especially when they are beautiful objects. He takes an art book of photos by photographer Fan Ho about Hong Kong in the 50's. "I discovered it on Internet and I looked for it for weeks. I finally found it in small bookshop of San Francisco and I got it six months later!" Luckily, readers know how to be patient.
---
Does capitalism has a future? by Immanuel Wallerstein, Randall Collins, Michael Mann, Georgi Derluguian, and Craig Calhoun, Oxford University Press, 2013: Five major social scientists engage in sophisticated and fascinating discussion of some of the most vital issues of our time
Rust and Bone by Craig Davidson, Viking Canada, 2005: Craig Davidson brings beauty to even the most distasteful of subjects in an unsettling collection of eight short stories.
The Forty Rules of Love by Eli Shafak, Viking, 2010 : A bored housewife takes a new job as a reader for a publisher. She is introduced to Sufism through a manuscript she is sent to read, and it has life-changing consequences.