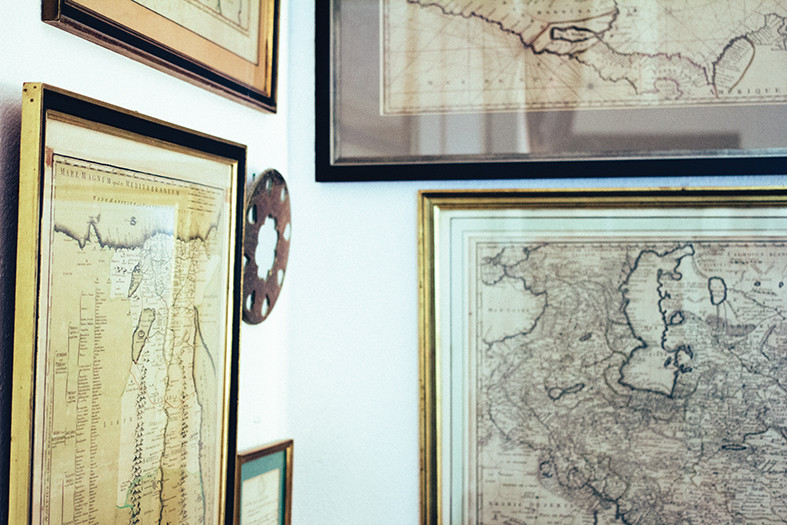 07 Apr

ANNIE AND JACQUES

Bookcase

The living room is full of light. Numerous items collected during the couple's travels set the tone and the atmosphere of the room. We are in a home far away from home. The bookcase stretches along a wall. There are also books in Jacques' office, who used to work as a psychoanalyst. Freud has a major place in there.

Travels

This year Anne and Jacques are celebrating their 65th wedding anniversary. Together they have read and travelled a lot around the world. The story of their life together is in this bookcase. First, the precious memories they have gathered: old maps, Egyptian goddesses, a Mayan virgin. As for the books: there are all of Voltaire's works found in a Parisian flea market, many travelogues and travel books, art books, literature and numerous titles about Islam and the Middle East, a topic they are passionate about. Also a whole shelf of dictionaries and encyclopaedias: they don't refer to the Internet when they need information. Have they read all the books they own? "Some books are simply there, some books are read" says Jacques.

This perfectly filled and varied bookcase reflects a part of their life: Jacques and Annie were both teenagers during WWII and they clearly remember their incredible appetite for books after the war. They wanted to read everything.

Reading and Listening

Annie can't see anymore. Reading thus now means listening to books, but the emotions and pleasure she experiences are still very intense, she insists. She listens to everything she can get, and her readings depend on what publishers offer in the form of audio books. Marcel Proust was the writer she loved in her youth, now she is coming back to Marguerite Duras' work, whose literature expresses something very intimate to her.

Jacques talks about his shock when he discovered Louis-Ferdinand Céline at the age of 15. In the past he read South American authors a lot and he liked French contemporary literature as well, especially Michel Houellebecq. Now Jacques mainly reads essays about Islam and the Middle East.

Worship

Jacques' grandfather was an erudite professor and a specialist of Oriental language, who deciphered Khmer inscription in the Angkor temple in 1890, and raised Jacques to worship books. Jacques learnt how to read by newspapers, next to his grandfather, who was so deeply concentrated with his work that he didn't mind his grandson playing with toy cars under his desk.
---
A FEW BOOKS TO BORROW FROM ANNIE AND JACQUES :
Journey to the End of the Night by Louis-Ferdinand Céline, New Directions : when Jacques discovered this author at 15, Céline's style and language were a real revolution for him.
The Elementary Particles by Michel Houellebecq, Vintage
The Malady of Islam by Abdelwahab Meddeb, Basic Books : "about the problem of cultural stagnation".
The Vice Consul by Marguerite Duras, Pantheon: "one of her most beautiful novels".
Love in the Time of Cholera by Gabriel Garcia Marquez, Knopf